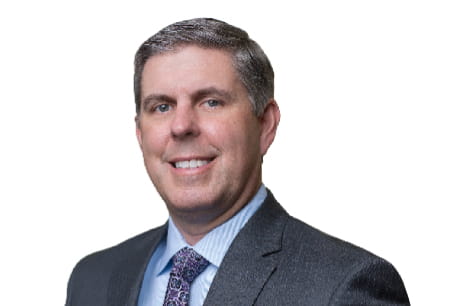 2021 ANNUAL REPORT
---
A Letter from our
President and CEO,
Rick McKenney
To our shareholders, customers and colleagues
As the world opens a new chapter in managing through the pandemic, Unum stands ready to meet the needs of the working world when employers and employees need us most. That is our purpose, and it's never been more important than today. By delivering affordable access to vital benefits through the workplace, we help provide the financial protection people count on in uncertain times. It's what unites our more than 10,000 employees around the world and inspires us every day.

We also continued to invest in our company to address some of today's toughest workplace challenges, create better experiences for customers, and help our employees realize their goals.

As we look ahead, the ongoing challenges of the pandemic and turbulent events across the globe set the state for ongoing uncertainty. Yet by building on our successes of the past and positioning ourselves to take advantage of new tailwinds in the external environment, I'm more confident than ever in our business model and our ability to drive growth and deliver on our purpose.
Review of 2021 Performance
In the midst of the challenges brought on by the pandemic, our teams adapted to the environment with uncommon compassion and resilience. The impact of the pandemic was visible in our benefits businesses, reflecting elevated mortality and high levels of infection rates and hospitalizations.

During the last two years, we experienced dramatic increases in life and disability claims, as well as volumes in our leave management business. The impact to our financial results reflects the human toll the virus has taken. We have paid more than $500 million in group life insurance benefits alone to support families and loved ones. Across short- and long-term disability, we've seen a 35% increase compared to pre-pandemic levels. Being there in time of need is why we exist and reinforces the critical importance of workers obtaining coverage through their employers.

Thanks to the perseverance of our employees, premiums grew during the year and persistency reached some of the highest levels we have seen. The value we continue to deliver to our customers during the pandemic, as well as the increased recognition of the need for protection products, allows us to attract new customers. This underlying momentum in our core business, coupled with strong employment levels and wage growth, position us for further growth as we emerge from the later stages of the pandemic.

From a capital perspective, we closed 2021 in a strong position. Risk-based capital (RBC) at year-end was the highest it has been since 2016 and well above our internal targets. We completed the final phase of a transaction to reinsure most of our Closed Block individual disability insurance business to a third party, which freed significant capital to enhance our financial flexibility. For the first time in many years, we were able to decrease reserves at our First Unum subsidiary and return capital to our holding company, an example of how the funding needs for long-term care can be managed over time, especially with higher interest rates. We also increased our dividend 5.3% and resumed share repurchases in the fourth quarter, demonstrating confidence in our company and optimism for the future.
2021 Performance by the Numbers
It is a testament to the strength of our franchise that despite impacts from COVID, the primary measure of ongoing business stability—premium income—as well as capital strength, improved year-over-year.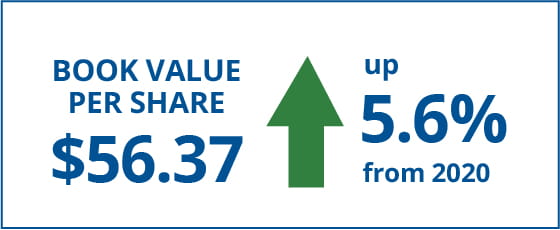 RESULTS FROM 2021 INCLUDED:
Premium income of $9.5 billion, up 1% from 2020
Net income of $824.2 million and after-tax adjusted operating income of $890.7 million
Net income per share of $4.02 and after-tax adjusted operating income per share of $4.35
Adjusted operating return on equity of 8.9% on a consolidated basis and adjusted operating return on equity of 10.3% in our core operating segments
Book value per share of $56.37, up 5.6% from 2020, continuing our long-term commitment to shareholder equity growth
OUR CAPITAL METRICS REMAINED STRONG AT YEAR-END, INCLUDING:
Holding company liquidity of $1.5 billion, consistent with 2020 levels
Risk-based capital of approximately 395%, 30 points higher than the prior year
Increased quarterly dividend 5.3% to $0.30 per share
Our Business and Our Purpose
Since our founding in 1848, Unum has existed to protect people financially, and we've delivered on that commitment every year since. As the pandemic has highlighted the financial fragility of the working world, it has also exacerbated longstanding challenges to address a variety of employer and employee needs. At the center of this critical relationship are human resource departments and business owners, and the variety of solutions we provide to help them better safeguard the health and wellbeing of their workers.

One area where Unum stands out is leave administration, a service with newfound relevance amidst a rapidly changing environment. In 2021, we built on our track record of leadership by introducing Unum Total Leave, a modern, digital solution for employers and their workers to further streamline the oftencomplex leave process. In addition, employers must also respond to the growing mental health crisis with programs that focus on broad-based and early intervention. Unum Behavioral Health was introduced in 2021 to do just that as it provides a comprehensive workforce solution that addresses the full continuum of mental health. Alongside other services, like vaccination and testing management, we now offer a robust package of workplace solutions and look to continue to grow in that area to meet the dynamic needs of employers and employees.

Targeted initiatives are expected to accelerate growth in three distinct areas – product enhancements, distribution effectiveness and digital adoption. In our voluntary benefits business, for instance, we're refreshing our offerings to meet emerging consumer needs and integrate with modern technology platforms. A greater focus on sales partner productivity, deepening client relationships and a greater presence among businesses with less than 100 employees will help employers compete for talent in an efficient and intuitive way. These and other efforts are reinforced by our digital-first agenda, where we are driving a significant increase in adoption of digital channels for enrollment, administration and claims.
Our People and Our Culture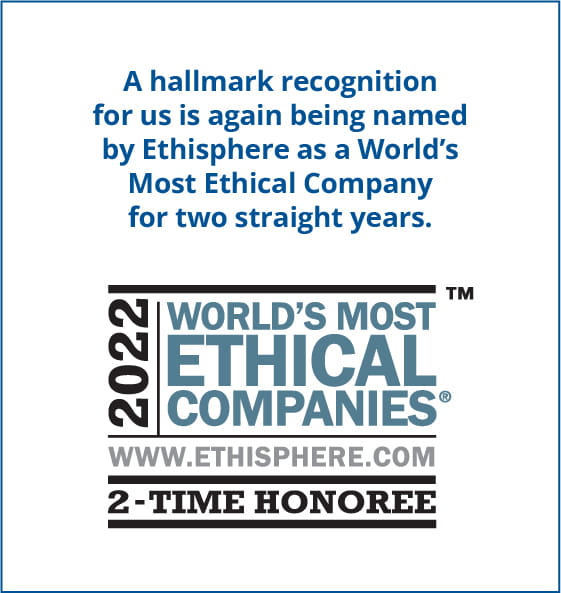 Our employees bring our purpose and business together. In today's hybrid workplace environment, we placed a heightened emphasis on communicating with and engaging our employees. We're listening to what our employees have to say through weekly CEO-led virtual checkins, annual employee engagement surveys, and other connections that reinforce a culture where everyone can thrive. We're gratified that our commitment to employees and the workplace has been recognized by leading organizations for excellence across a wide range of categories, including ethics, diversity, disability representation, LGBTQ equality, and health and wellbeing. A hallmark recognition for us is being named by Ethisphere as a World's Most Ethical Company for two straight years.

Doing the right thing and delivering for our customers requires that every employee be, bring, and can become their best selves. We strive to foster a culture of belonging where our employees, customers and partners see themselves in every aspect of our business. This is both a business and a talent advantage, and one we've taken significant actions in the last year to advance. In 2021, we reinvigorated our approach to inclusion and diversity and focused on diversity of thought to give greater voice to our employees. This strategy is the recognition that people acquire and share information using their culture, upbringing and experiences as a frame of reference, and positions us take proactive steps to strengthen our culture and commitment to being an advocate for positive change in our communities.
We are dedicated to building strong communities.
Since the launching of our Social Justice Fund in 2020, we've contributed more than $700,000 to programs focused on systemic and policy change, training, economic justice and civic engagement. We also partner with local higher education institutions in the U.S. and U.K. to provide equitable opportunities for Black, Hispanic, Latino and socioeconomically disadvantaged students.

In total, Unum donated more than $12 million in 2021 across our geographic footprint to enhancing educational opportunities, promote wellbeing and help our communities grow stronger. And our work continues this year as we join with other companies and communities to condemn hostilities in Ukraine and provide support for the resulting humanitarian crisis. Through the hard work of our colleagues in Poland — which has especially been impacted by the refugee crisis — we have marshalled hundreds of volunteers and provided funding to support a variety of relief efforts.
The View Ahead and Driving Long-Term Growth
We have optimism as we look forward, thanks to our progress over the past two years. As COVID-related impacts continue to dissipate, we expect declining mortality, decreasing short-term disability claims, and an improving residual long-term disability environment. This should enable accelerated growth beginning in the second half of the year, followed by a return to our long-term annual earnings growth run rate. External factors such as inflation and rising interest rates also drive revenues through natural growth and higher investment yields, although this dynamic is pressured by expenses we have taken to maintain market competitiveness for compensation of our own employees. Overall, though, with high employment, rising wages, and demand for workers continuing to grow, this is a good time to be in the employee benefits space. Thanks to the value we are delivering for customers, including introducing new digital capabilities, we have been able to adopt a nimble strategy focused on gaining new customers and adding value to those relationships we already have.

Underscoring these strategies is our capital plan, which balances return of capital to shareholders with the accelerated recognition of the premium deficiency reserve (PDR). Once the recognition of the PDR is completed, financial flexibility will be increased, resulting in greater capital deployment for the longterm. Even with our expected shareholder return plans and accelerated PDR recognition, we expect healthy levels of capital through the cycle. The actions we have taken to improve that position, including the reinsurance transaction in our Closed Block individual disability line, have resulted in the best capital metrics we've had in many years.

We remain well-positioned for the future, anchored in a strong purpose that has made us a stronger and more valuable franchise. That purpose is what drives our employees every day, and I am thankful for and energized by their commitment to our customers. Together, we thank you for your continued support.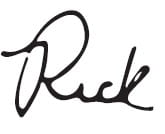 Rick McKenney
President and CEO, Unum Group