Veteran Support: Helping Service Members Thrive
by Contributor
When Jason Clutter returned to civilian life after a 21-year stint in the Army, he needed something to help him cope with post-traumatic stress syndrome. That's when a friend told Clutter about
Warrior Freedom Service Dogs (WFDS)
and he met Colt, a Uriel Airedale.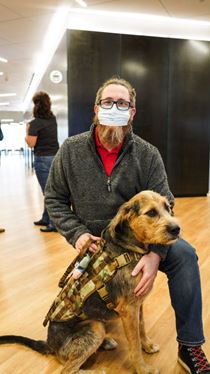 Jason Clutter and Colt
Since Clutter brought Colt home in September 2018, he has boomeranged back into the work world. Now, Jason is a senior sourcing specialist at Unum. "I heard so many great things about Unum, the atmosphere and openness to accept people for who they are," shared Clutter. "I needed to be somewhere that had acceptance and tolerance to allow me to feel welcomed about my struggles."
1st Lt. Promise Newman* took a leave of absence in December 2020 to join Tennessee's COVID-19 task force. She is a field medical assistant with the Tennessee National Guard and an associate life event specialist at Unum who was assigned to Memphis-area hospitals. Serving as the liaison to hospital staff, Newman also supervised the state's pandemic Provider Project and helped increase the availability of vaccinations in high-risk population areas throughout the state.
Newman said, "My employer has been really supportive of my military assignment. During one of the company's leadership conference calls, the CEO took time to mention what I'm doing. It is nice to have an employer who appreciates the military service of its employee."
Veteran support: Helping service members thrive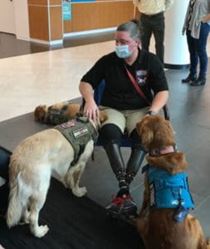 Christy Gardner, founder and president of Mission Working Dogs
Unum and Colonial Life support employee service members and have provided $50,000 in grants to local organizations that back Veterans. Along with WFDS in Georgia, partnerships like
Mission Working Dogs
and Boots2Roots in Maine and
Palmetto Animal Assisted Life Services
in South Carolina help Veterans adjust to civilian life.
Newman continues serving by helping establish the National Guard's hospital presence in Chattanooga. "Working in the area hospitals has been phenomenal," said Newman. "The relief on the faces of the hospital staff was immediate. The gratitude from the civilians we are serving is also evident. They see the military uniform and enthusiastically thank us for our service. It is a very humbling experience."
For Clutter, he doesn't feel the need to bring Colt to work like he has done with past organizations, "My co-workers have been amazing in supporting me. I don't feel the overwhelming anxiety that I have before."
Clutter has some advice for Veterans looking to work after retirement, "Take it slow and research if the company's atmosphere is acceptable of your ability. Take transition speed bumps as they come. Ask for help when you need it. Unum has been good at providing that help."
Thank you to all active duty and retired military personnel for you service.
*Article for Newman first appeared in
Defense Visual Information Distribution Service
.
---
Share on social media:
About Unum Group
Unum Group (NYSE: UNM), an international provider of workplace benefits and services, has been helping workers and their families for 175 years. Through its Unum and Colonial Life brands, the company offers disability, life, accident, critical illness, dental, vision and stop-loss insurance; leave and absence management support and behavioral health services. In 2022, Unum reported revenues of about $12 billion and paid $8 billion in benefits. The Fortune 500 company is one of the 2023 World's Most Ethical Companies, recognized by Ethisphere®.
Visit the Unum Group newsroom for more information, and connect with us on LinkedIn, Facebook, and Instagram.