Every 40 seconds, someone in the world completes suicide. That's more than 700,000 people. [1] One of those people was my late husband, Herman.
There are so many things you can do in 40 seconds:
Change your profile photo on one social media site
Re-watch the game winning touchdown and celebrate with friends
Clear out the Amazon cart holding all your quarantine 'must haves'
Clean your computer screen and keyboard
Sing the chorus of your favorite song – twice!
Who would think those mere seconds amount to thousands of people claiming their own life? I didn't.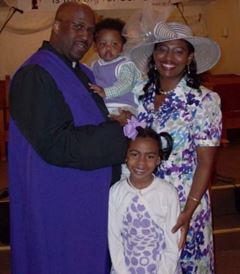 Yolanda and Herman with their children
My life changed after I received the life-altering phone call from a parishioner in Herman's church congregation. I'd known this Deacon since I was five and here he was, on the other end of the cell phone line, delivering devastating news about my husband and his Pastor. I'm sure it was the most difficult call he had to make as a church leader.
I remember, I took the day off work because something just didn't feel right. My mother and I planned to meet at a children's clothing store and shop for my two children. We wanted to be the first shoppers, so we agreed to arrive early. Instead of shopping, I ended up in the parking lot belting out gut-wrenching cries.
It was September 9, 2010. One day before World Suicide Prevention Day, September 10. This date is set aside to bring awareness in improving the mental health of people around the world.
Issues surrounding mental health raised its hand loud and high before the pandemic – like a kid on the first day of school. Now, 18 months in, the spotlight continues to be placed on mental health after a Kaiser Family Foundation survey found more than half of adults said their mental health had deteriorated since lockdown.[2] For some, this became diagnosable depression. Mental Health America noted 8 in 10 people who took a depression screening consistently scored with symptoms of moderate to severe depression since March 2020.[3]
In the workplace, this can come with staggering financial implications.
Workplace stress cost employers an estimated $500 billion
. It's ticked up higher as figures indicate a huge rise in mental health concerns since the outbreak.
Recognize the signs
You see, I really didn't have to pay attention to signs of mental health or depression because I thought it was not applicable to my life. I was wrong. The
National Alliance on Mental Illness
notes that recognizing the difference between expected behaviors and signs of mental illness or depression isn't easy. Some common signs include:
Avoiding friends and social activities
Extreme mood changes; uncontrollable highs and deep lows
Overuse of substances
Suicide ideation
Changes in work or school performance
Expressing feelings of profound sadness
Self-harm such as cutting
Reduce the stigma
Mental illness is a condition that you can't see. It manifests in other actionable ways, like those listed above. It takes a back seat because it may not be recognizable to the everyday eye. In fact, most people living with mental health conditions may hide it. They may not seek help because it is taboo and stigmatized in the community they live. But there are actions you can take to reduce the stigma:
Be conscious of language
Encourage physical and mental illness equality
Show compassion for those fighting through mental illness
Talk about it openly
Team up to prevent suicide


Work through it
Employers have a duty of care to recognize this is an issue that could impact any workplace. Providing support to employees who struggle with mental health and wellbeing or tackle issues like harassment and bullying is only part of the solution. Postvention as well as prevention is key. My employer, Unum, takes it seriously. In a recent survey of employees representing several employer groups, 49% of respondents said they know someone in their workplace with a mental health issue.[4] Almost half.
There are financial implications for businesses, too. According to the Center for Disease Control, depression causes an estimated
200 million lost workdays
each year at the cost of $17 to $44 billion to employers. At Unum, some of the employee support benefits we have implemented include:
Ensuring employees have fast, direct, and easy access to mental health support.
Extending mental health training for line managers – they are in the best position to spot early signs of distress and support employees who are struggling.
Discovering the support available from national and regional charities who have expertise in particular areas relating to mental health or bereavement.
Offering
Unum's Behavioral Health Solutions
to employers so they can help simplify what can be a complex illness for their employees.
Take a moment and be still for 40 seconds – no typing, no thinking about the next work assignment, no adding to the mental grocery list. Just be still. Set your timer for 40 seconds and breathe in the stillness. Do this in remembrance of those who have been taken by suicide and those of us who are the survivors.
[1]
https://www.who.int/teams/mental-health-and-substance-use/suicide-data

[2]
The Implications of COVID-19 for Mental Health and Substance Use | KFF
[3]
Spotlight 2021 – COVID-19 and Mental Health.pdf (mhanational.org)
[4] Data based on April 2021 survey of 1,200 U.S. full-time working adults.
---
Share on social media:
About Unum Group
Unum Group (NYSE: UNM), an international provider of workplace benefits and services, has been helping workers and their families for 175 years. Through its Unum and Colonial Life brands, the company offers disability, life, accident, critical illness, dental, vision and stop-loss insurance; leave and absence management support and behavioral health services. In 2022, Unum reported revenues of about $12 billion and paid $8 billion in benefits. The Fortune 500 company is one of the 2023 World's Most Ethical Companies, recognized by Ethisphere®.
Visit the Unum Group newsroom for more information, and connect with us on LinkedIn, Facebook, and Instagram.